As an emergency responders, it is your job to protect and serve your community. The following information will assist you in the event of a pipeline incident in your area.
Damage prevention is key to the safe operation of pipeline systems. Reporting trouble can be the first line of defense. Call the pipeline operator if you see:
Suspicious activities near a pipeline (loitering, digging or construction without markings or flags)
Damage to pipeline facilities or markers
Exposed pipe in washes, ditches, or streams
To learn more about safe digging and/or construction in your area, use the following links: DIGGER (Chicago) and JULIE (Illinois)
---
Sometimes leaks aren't visible, but recognizing a leak quickly can make all the difference. Use all your senses to notice a leak by noticing some of the symptoms below.
Call if you see any of the following:
Dirt blowing in the air
Sheen or film on water; water bubbling
Fire or explosion involving or near a pipeline
Dead vegetation for no apparent reason
Pools of liquid on ground or cloud of vapor or mist
Call if you hear:
Hissing or whistling
Roaring sounds
Call if you smell anything like:
Skunk
Rotten eggs
Petroleum
---
If you receive a call to respond to an incident, follow the Four Steps of an Emergency Response.
1) Assess the situation
Avoid contact with released product (vapor or liquid)
Ascertain the release location and weather conditions (particularly wind direction)
Identify the pipeline operator and product being released
Eliminate ignition sources (vehicles, radios, cell phones, etc. should be turned off)
Determine immediate threats to the population and environment
2) Protect the Public
Establish a safe zone of 1/2 mile around site perimeter
Establish control zones
Enter with caution; evacuate if necessary
Do not extinquish primary fires
Do not operate pipeline equipment
3) Contact the Pipeline Operator
Call the 24-hour emergency number! The Control Center will need to know:


Your contact information, especially on-site cell phone number (being used a safe distance from the incident)
Incident location including state and county; GPS location. Remember, not all call centers will be in the same state or even country you are.
Size, characteristics of, and information about the leak.

The Control Center will:

Dispatch pipeline personnel to the site
Remotely operate pipeline equipment
Gather incident details
Liaison between first responder and pipeline operator
4) Work Together
Pipeline operators:
Will establish contact with on-scene incident commander
May request additional assistance with evacuation, traffic control, and area security
Are trained to:

Recognize dangers
Minimize hazards
Operate pipeline equipment
---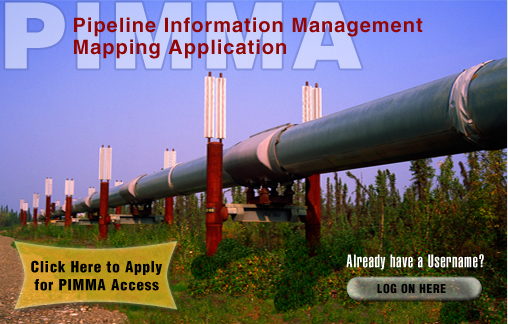 Knowing the location of pipelines in your area, the local representative, and the products they carry will assist you in a safer response. Visit the PIMMA website to gain more knowledge pertaining to the pipelines in your area.
As a local, state, or federal agency, you can apply for additional access to information on the site. It is highly recommended for your response agency.
Your attendance at the Pipeline Safety Seminars held throughout Illinois in the fall will give you an opportunity to meet the pipeline operators, to learn more about pipeline safety and what to do in the event of an incident. Response to an incident is not the time to meet your local pipeline representative for the first time.