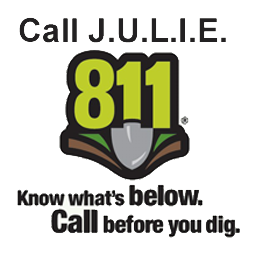 If you are an excavator, remember to ALWAYS call before you dig--for your safety and the safety of others. Call J.U.L.I.E. at 811 before beginning any project, no matter how small it may seem. 811 is the nationwide toll-free number for locate services. J.U.L.I.E. can also be reached 24/7 at
1-800-892-0123, another toll-free number. Because they have staff working 24 hours a day, 7 days a week, there is never any reason to not call before you begin digging.
In Illinois there are more than:
9,400 miles of gas transmission mains
7,700 miles of hazardous liquid transmission mains
60,0000 miles of distribution mains
3.7 million service lines
Most pipelines are marked by pipeline markers which will indicate the pipeline company, emergency phone number, and product. Pipeline markers identify the approximate location of the pipeline, but they do NOT indicate the depth of the pipeline. Additionally, the absence of a pipeline marker does NOT mean a pipeline is not present.
Sometimes leaks are not visible, but recognizing a leak before you begin digging can make all the difference. Use all your senses to notice a leak by noticing some of the symptoms below.
Call if you see any of the following:
Dirt blowing in the air
Sheen or film on water; water bubbling
Fire or explosion involving or near a pipeline
Dead vegetation for no apparent reason
Pools of liquid on ground or cloud of vapor or mist
Call if you hear: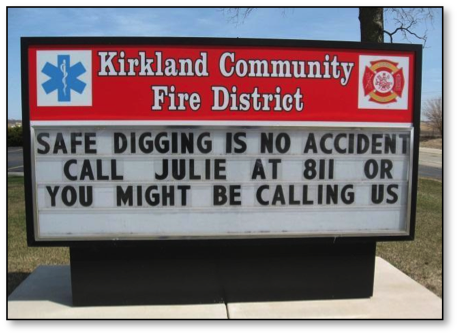 Hissing or whistling
Roaring sounds
Call if you smell anything like:
Skunk
Rotten eggs
Petroleum
Whether there are signs of a pipeline leak or not, always call before you dig. To learn more about safe digging and/or construction in your area, use the following links: DIGGER (Chicago city limits) and JULIE (greater Illinois).